Useful #Twittertools to Discover Conversations With #Hashtags
Hashtags are becoming the "black" for social media – a desirable feature used to enhance a social media message.   Though recently introduced in Pinterest, Instagram, and Facebook, hashtags have been around a while. Sometimes they are used blatantly – witness the flashing tags in the Robin Thicke's controversial Blurred Lines video – and other times they are subtle, like appearing in the corner of a television show.
Most importantly, from a business perspective, hashtags are becoming the means in which customers research products and services.  Buffer noted in a collection of surprising Twitter facts that tweets with hashtags gain twice the amount of engagement.
If your small business is looking to use hashtags more consistently, the first step is understanding the conversation surrounding a desired hashtag topic.  To learn what is being said and shared, give the tools listed below a try and see how they reveal hashtag usage to your communication plans.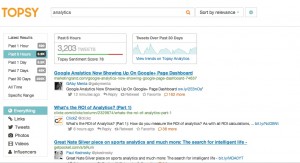 A site to certainly check out is Topsy.com. The excellence of this tool is its ability to divide results by links, tweets, photos, videos and influencers.  It can detail results according to past time period, so recency can be included as a factor in the results.
Twubs permit users to follow a hashtag in real time. Enter the desired hashtag in the search bar and a live feed of all tweets using that hashtag will appear. You can also select the feed speed that you want and post messaged with that hashtag directly from the feed page on the hashtag chat.
BackTweets is a very basic search engine site meant to display historical mentions of a word, hashtag, TwitterID, or URL mention.  Backtweet results can compliment search results in Twitter, Hootsuite, Sprout Social, and other Twitter-related applications.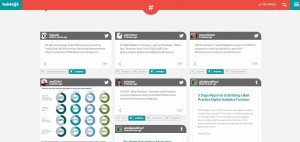 This hashtag-dedicated social media engine is in its initial beta as of this writing, but it does offer surprising and outstanding functionality. First, it can aggregate hashtag usage across the major social media platforms, so a comparison of Instagram usage can be alongside Twitter. You can also create lists according to interest. You can then use that comparison to tailor a "to do" list of text to use in your hashtags, tweets, and shared content.
This real-time hashtag intelligence tool provides charts and graphics, as well as numbers of tweets and retweets, reach, impressions and other details that will help you get more insight into the success of your hashtag.
Hashtags.org also provides some hashtag tracking, although for more in-depth analytics you'll need to be a paid member.
Bottlenose is more akin to Hootsuite, Tweetdeck, and Postling as a social media dashboard than a search engine like Hashtracking. It gives users data that reflects an overview of an owned social media channel.  But it does have a unique sonar feature that permits users to discover other hashtags associated to the ones already used in a Twitter account.
Combining Bottlenose with any of the aforementioned tools should provide a thorough review of what related hashtags are worth your time.