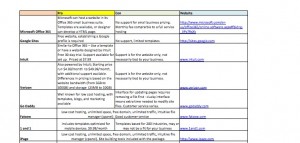 With so many small businesses still struggling to establish a website, the choice of hosting has been numerous – and complicated.  To make the choices a bit simplier and to help small businesses evaluate hosting option, take a look at this excel list of hosting options (with a few other packages thrown in).  The comparison runs the gamut from Intuit (which also offers its web building services to Verizon) to dedicated hosting for Fatcow and, of course, Godaddy.  Click here for a downloadable pdf of hosting solutions.
Keep a few aspects in mind:
Some options can limit operational capability.  I have seen one business rely on the now-defunct Microsoft Officelive but because there was no MySQL, PHP, or other backend applications required at the site, the business was limited in creating features for visitors, some of which were revenue generating.
For frequent updates, Use a FTP Client to upload large number of files quickly into your website – Fetch Softworks offers an excellent client, as is Filezilla. Filezilla is free; Fetch is an Mac-only client but inexpensive $49.
For those using WordPress, include the Add from Server plug in (author Dion Hulse) with your file server. The plugin is especially useful for large image files – once uploaded media files need to be placed in the correct directory to be accessible for post, so essentially the plugin is an additional required tool if confronted with a large number of media files with some larger than the wordpress filesize limit.
Consider customer service and support as a factor – many hosting services are similar technological features and benefits across the board.  Good customer service is essential for the hang ups that can occur with a website or blog.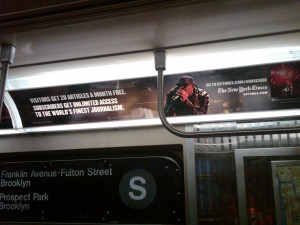 Ah, the New York Times. A paper with global stature.  No paper made more significant headlines of its own in the online world when the New York Times announced its digital subscription program (details here). The skinny is that visitors who are not subscribers can view up to 20 post in a month, while subscribers of one of three digital news packages have unlimited access. When non-subscribers click on their 21st article, they can purchase a subscription. The plan was implement in March 2011, and the jury is still out on how well the paywall plan is working. New York Times is noted to be the largest newspaper publisher who has implementing a paywall.
Many online blogs operate like a newspaper, and while many still are not at the scope of New York Times, a financial model for making a profit can be a challenge. So what would a small business do to emulate a paywall, or even figure how to better serve its audience? One analytics feature that would be helpful is developing a custom variable to distinguish subscribers online.
A few words on custom variables. Custom variables are a javascript call out that measure page actions for specific activity, In the case of visitor, measurement can include such as the number of pageviews from members who log in on a members-only site. The variable is typically activated by modifying the analytics code, inserting the following Javascript call out with parameters.
Google Analytics requires that index, name, and value are identified. They are determined as followed method accepts four parameters:
index—This is a slot number, with a single value from 1 – 5, inclusive. This is meant as a key for one custom variable, so you can have index 1, and index 2, an index 3, and so on.
name— This is a string that identifies the custom variable.
value—This ia a value that is paired with a name. You can pair a number of values with a custom variable name, such as a custom variable name gender and supply male and female as two possible values.
opt_scope—The scope for the custom variable, usually for an additiona description
Most web analytics solutions have some variation of the callout. Piwik, for example, uses the Javascript callout setCustomVariable( index, name, value, scope ) where scope is named "visit" or "pages" depending on whether your variable is tracking based on visits or pages.
When you decide to implement custom variables, you need to consider your site needs carefully against your budget, since most paid solutions offer more flexibility with variables. Piwik and Google Analytics, both free solutions, limit the number of custom variables, while paid solutions Yahoo Web Analytics and Omniture Site Catalyst permit more variables and offering even more customization.
But custom variables can help track visitors to distinguish traffic patterns between members and non-members. Such an arrangement would help your blog develop what effort would convert non-subscribers to subscribers, as well as may other ideas to maintain traffic onsite and provide unique, nuanced treatment for two separate sets of visitors.
There are plenty of other ways a custom variable can be used. Justin Cutroni offers a unique way of using custom variables for coupons – you can read about his process here.
What other ways can custom variables be useful?
If there is one thing about Greg Crook, he understands timing is everything.  Even the name of his company, Tic Toc Entertainment, has been a reminder of that timing is essential for success.
Greg Crook has been running Tic Toc Entertainment on perfect timing for the past 12 years.  Tic Toc Entertainment consists of a recording studio, a roster of Chicago recording artists and live musicians, the band Night Fever (in which Greg is a keyboardist), and Midwest DJ and Karaoke, a DJ service that covers events such as weddings and corporate parties (and karaoke as well).   The business has served not only Chicago but the Midwest in general. A consummate musician and Gary, Indiana native, Greg has been working to elevate the online exposure for his businesses to reflect their past history and future.
Zimana's involvement was creating four websites on a very limited budget – this was done to focus on updated content, as well as a establish a baseline of analytics measurement, which would give Greg guidance on which marketing effort needs adjustment.  Site templates were modified, with Javascript codes incorporated to rotate picture images of the musicians and studio (even the images were hand selected for size and conveying the Tic Tic story).  For the Night Fever site, Zimana created a video montage that conveyed the sounds of a the group, using past images, a current video, and sound bites from each source. Customer recommendations were added into three of the sites, to reflect that company history.  Finally, a Gigbuilder music selector was incorporated into the Midwest DJ site; Zimana also worked to update the music database for the client so that customers can search music by album title as well as by song.
While finishing touches to the studio site and Midwest DJ and Karaoke are being completed, the sites are creating more qualified leads, as well as increased interest for all of Tic Toc Entertainment services.  For more on Tic Toc, view the Tic Toc Entertainment site, the Nightfever site,  Tic Toc Studios site and Midwest DJ and Karaoke Services.