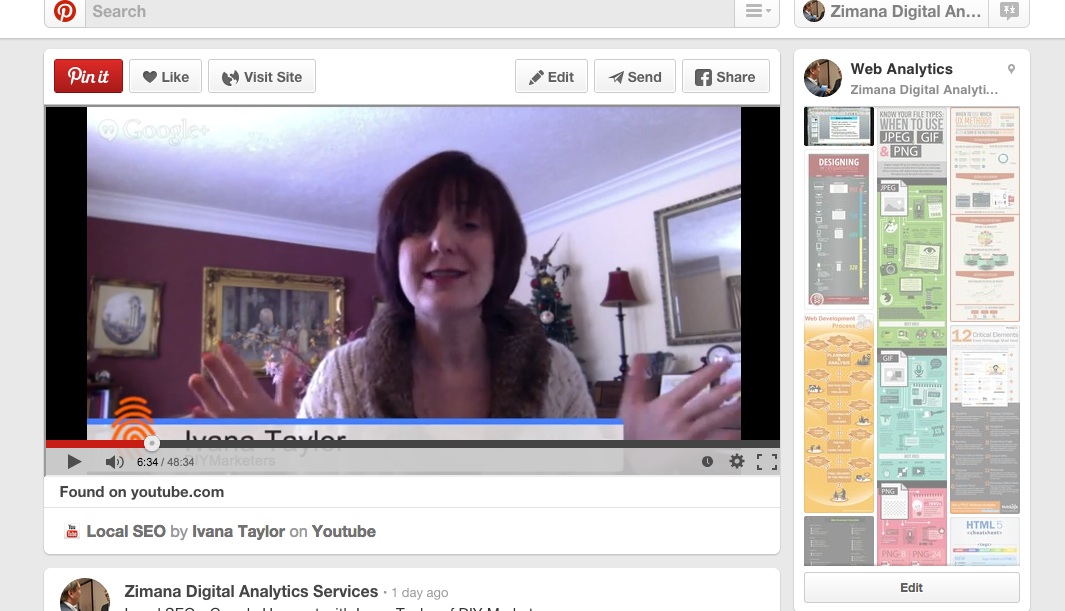 Pinterest is widely known for sharing images, but video is fast becoming a great second option. Adding YouTube videos is at the heart of that second option. Doing so has the potential to strength a YouTube audience, building subscribers, as well as adding variety to a Pinterest account.
The steps are simple. First upload the video you intend to share in a YouTube account – the video can then be pinned to a Pinterest board. To share on Pinterest, look for the share option and click the Pin It button to share it to one of your Pinterest boards. If you have added a Pin It button in your browser, you can use that as an alternative.
One tip: ensure that the thumbnail for the video is complementary and flattering to the video subject (or even existent – many videos are uploaded willy-nilly with no consideration of what appears when a video is part of a menu). In short, select a thumbnail image for your video, since Pinterest relies heavily on imagery to capture visitor interest.
After pinning a video to a board, you can optimize the entry with the following updates:
Update the description to add keywords to help make it more searchable on Pinterest. Tailoring the description for your Pinterest fans is a great touch.
Add the word "video" to the beginning of the description. Doing so adds extra attention for Pinterest followers accustomed to images.
As an option, you can add the URL of the page or blog post where the video has been embedded in the pin's description.
Once a video is pinned, you have the option to edit the link so that the pin directs to the website. Consider which metrics you are seeking to build – YouTube subscribers or analytics goals associated to the main website.
Now see how adding video impacts your metrics. For more on this, check out this Zimana post on Pinterest Analytics.