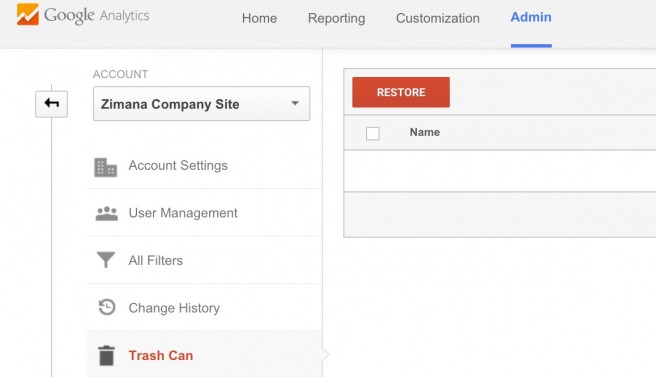 Every once in a while, data needs to be removed from an account. Every once in a while, the removal is accidental.  Google has provided few options (read "ZERO!") if the data is lost.  Been so since its introduction in 2006.
Well now times have changed, and they have brought new options for managing analytics data. Earlier in 2015 Google introduced a beta feature for Google Analytics called Trash Can. This feature allows users to recover deleted data associated in an analytics account.
To access Trash Can, users navigate to the admin page in the Google Analytics accounts.  The can appears in the account column.  Select it and then choose the data that you want to recover.
Data from within accounts, properties, and views can be recovered.  35 days from the date of deletion is the threshold for how far back deleted data can be retrieved.
So while trash can provides another way to recover, it is still important to check on the data regularly. If data is deleted and checking data is conducted in periods beyond 35 days, then it's possible to overlook the point where deleted data is recoverable.   Overall it is a useful feature for those who do make mistakes despite regular usage.