For retail or e-commerce paid search, look at the full picture.
That's the concept Meghan Danielson of Adlucent presented in one of the mini-sessions at the 2012 Search Engine Strategies New York expo. She was speaking about product analytics, identifying words that lead to specific conversions.
Three ideas she mentioned in a short presentation are worth checking if you having some difficulty attributing conversion for your retail or e-commerce site.  Meghan summed it up – "If they came in and bought something else, what does that tell you about the keyword and the page their landing on"
Branded keywords
Because of a strong consistent presence in search traffic, branded keywords can mask seasonal trends.  If a keyword led to a product purchase, then you have a starting point for a bid strategy – that keyword can be enhanced with a paid search program (Pierre's note: eMarketer noted that a study indicated that people were more likely to act on a keyword result that appeared in organic and paid search).
Bundling products
Visitors brought to a site by one keyword may purchase a different product.  Such purchase may be an indicator to bundle products together.  Businesses should consider what backend processes would be affected with this kind of retail offer. (Pierre's note: This may be a good coupon/ad and landing page strategy to use)
Price
Another factor similar to the bundled amount is price. Meghan says sometimes people decide to select another product shown on the site when the price of their original intention was not the amount expected.  "Am I price competitive to let people get what they came for?"
For these last two points: Consider planning an A/B test on products offered or on price (multi) to see what is an actual factor.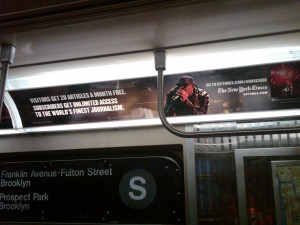 Ah, the New York Times. A paper with global stature.  No paper made more significant headlines of its own in the online world when the New York Times announced its digital subscription program (details here). The skinny is that visitors who are not subscribers can view up to 20 post in a month, while subscribers of one of three digital news packages have unlimited access. When non-subscribers click on their 21st article, they can purchase a subscription. The plan was implement in March 2011, and the jury is still out on how well the paywall plan is working. New York Times is noted to be the largest newspaper publisher who has implementing a paywall.
Many online blogs operate like a newspaper, and while many still are not at the scope of New York Times, a financial model for making a profit can be a challenge. So what would a small business do to emulate a paywall, or even figure how to better serve its audience? One analytics feature that would be helpful is developing a custom variable to distinguish subscribers online.
A few words on custom variables. Custom variables are a javascript call out that measure page actions for specific activity, In the case of visitor, measurement can include such as the number of pageviews from members who log in on a members-only site. The variable is typically activated by modifying the analytics code, inserting the following Javascript call out with parameters.
Google Analytics requires that index, name, and value are identified. They are determined as followed method accepts four parameters:
index—This is a slot number, with a single value from 1 – 5, inclusive. This is meant as a key for one custom variable, so you can have index 1, and index 2, an index 3, and so on.
name— This is a string that identifies the custom variable.
value—This ia a value that is paired with a name. You can pair a number of values with a custom variable name, such as a custom variable name gender and supply male and female as two possible values.
opt_scope—The scope for the custom variable, usually for an additiona description
Most web analytics solutions have some variation of the callout. Piwik, for example, uses the Javascript callout setCustomVariable( index, name, value, scope ) where scope is named "visit" or "pages" depending on whether your variable is tracking based on visits or pages.
When you decide to implement custom variables, you need to consider your site needs carefully against your budget, since most paid solutions offer more flexibility with variables. Piwik and Google Analytics, both free solutions, limit the number of custom variables, while paid solutions Yahoo Web Analytics and Omniture Site Catalyst permit more variables and offering even more customization.
But custom variables can help track visitors to distinguish traffic patterns between members and non-members. Such an arrangement would help your blog develop what effort would convert non-subscribers to subscribers, as well as may other ideas to maintain traffic onsite and provide unique, nuanced treatment for two separate sets of visitors.
There are plenty of other ways a custom variable can be used. Justin Cutroni offers a unique way of using custom variables for coupons – you can read about his process here.
What other ways can custom variables be useful?
Need a little more information on using analytics within your organization?  There are three great books that I have had the pleasure of reviewing at Small Business Trends, an award winning small business blog started by editor Anita Campbell.  Written by the leading experts in web analytics and business intelligence, these can help develop an organization around the timely use of analytics tools.
Analytics At Work (Thomas Davenport, Jeanne Harris) — focuses on analytics within an organization.  Differing from their first book, Competing on Analytics, Analytics at Work is for medium sized organizations that want to incorporate business intelligence tools for operational efficiency but not as a leading advantage in a given industry.
Yahoo Web Analytics (Dennis Mortensen) — this book is more than a how-to regarding Yahoo! Web Analytics.  It's perfect for online merchants who are interested in Yahoo Web Analytics, but also advanced analytics practitioners who need additional ideas for Javascript code and segmentation analysis.
I have also reviewed other business books with Ivana Taylor, founder of DIY Marketers and the book editor for SBT.  We try to review business books we genuinely like and that have great use for small business owners.   A great one Ivana did  is called Success Made Simple which featured perspective from Amish small businesses
Small Business Trends covers a number of great small business subjects and tips.  Definitely a must follow for any small business owner.
What other business books have been a great aid to your business or outlook?