Pinterest, Google Plus, and Tech – 2012 Social Media Week Chicago recap
2012 Social Media Week came and went in Chicago. I had the opportunity to hear a few great panels, many with a particular nod to social media analytics.  Here are the highlights from the panels I attended:
Google celebrated its 14th birthday with a 3 hours panel that focused on Google Plus and a mini review of Adwords. A Constant Contact director, Steve Robinson, also offered email marketing tips.
Northwestern University provided a series of panels, including a revealing research linking social media to purchases by Prof. Ed Malthouse and a deeper look at social media influencers by Prof. Alok Choudhary.
Pinterest was covered in the panel Tess Kearns of All Natural Chicago and Julie Dicaro as well as a mention to a new book Pinterest for Business.
Kerri Noerth, Kerry Sugrue, and Vicki Ledajaks of Cars.com noted how the online auto trader implemented social media throughout the organization
Howard Tullman, President and CEO of Tribeca Flashpoint Academy, explored the major trends for social media in 2013.
Measurement was a key factor in many of the success stories panelist described as analytic solutions have begun to inform businesses beyond mere accounting stats.  30,000 attendees in 13 host cities attended over 1000 events.  Some highlighted thoughts from these panels:
Small Business Technology Tour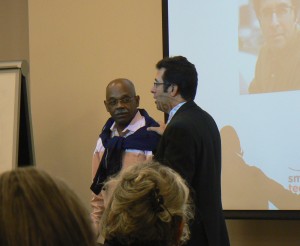 Ramon Ray provided some great overviews of available tech for small business, from cloud applications to email marketing services.  Sponsored by Microsoft and Infusionsoft, the Small Business Technology Tour covers several cities, including Miami and Atlanta.
Barry Moltz (@barrymoltz), who co-authored the book Small Town Rules with Becky McCray, provided some great insights in growing a business.  He noted that business owners must "Drive where you want to go, Accept the results you get. Build the life you want." He noted that in developing a team to help drive a business, small business owners are bad at hiring  – A players hire B players, which reduces the very self-initiative that made the business successful.  Barry suggests "we should hire people who are complimentary to us."
He noted two main rules of sales;
1. People only buy when in they are in pain and when they have money.
2. We can't sell anything to anybody – we got to be there when people are ready to buy.
Pinterest for Business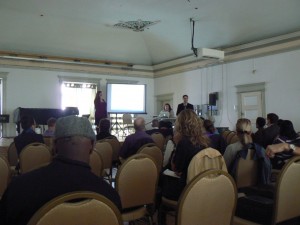 Tess Kearns of All Natural Chicago and Julie Dicaro explained the nuances for using Pinterest, noting that Pinterest has 29 million users as of July. This is significantly greater than 1.7 million user a year ago.
In her portion of the presentation, Tess stated that Pinterest's advantage over other platforms is its simplicity.  It is not "overstimulated with API and ads." In fact no one needs to agree with you to see your Pinterest boards;  "If followers post content, you can't edit it. They can follow you, but you don't have any control over it."  Thus Pinterest response is about a natural interest in the images shared.  Tess and Julie discourages direct pitches; "You can not go onto Pinterest to sell yourself."  Instead, user should emphasize telling a story about the images they share.
Cars.com
The panelists noted that their strategy for implementing social media across the company was "less about collaboration, more about being social…Consumers and suppliers love working with people that they like." They noted a McKinsey study that claims that 2/3rd of value derived from social media.
The panel also noted a generation shift in where value is derived in an organization. "Processes were originally built to manage communication and interaction. Yet processes built to manage activity has gone away – The time needed to interview versus receiving a job offer has shrunk dramatically. The end result is that ROI benefit goes to a different group than human resources."
Medill School of Journalism Northwestern University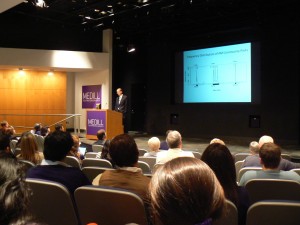 The Medill School of Journalism displayed savvy social media prowess, hosting three panels at the McCormick Tribune Center.  The highlight for me was a research paper from Professor Malthouse that linked social media directly to business objectives.  Using community engagement and purchase data from Canada's Air Miles Reward Program and three separate contests, Malthouse explains how encouraging consumers to think about the benefits they receive from your service increases the likelihood for a sale or conversion activity
Also Alok Choudhary, professor and founder of consulting firm Voxsup, presented how big data analytics in social media enables real-time analytics, and how networks of social connections can best reveal ambassadors, influencers to companies.  The effort leads to better engagements.  Demonstrating with case studies based on an online tool developed by Voxsup, Alok Choudhary called this interaction Action Based Connection (ABC).  He used a case study example regarding Egypt's recent political unrest in which a Twitter user who had few followers yielded a high influence.  Followers noted that her comment were real, so they turned to her. This example shows that one does not have to have a lot of followers to be influential…just genuine.