Category Archives:
Business Intelligence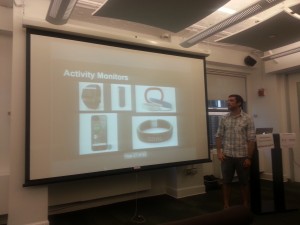 Cloudcamp in Chicago is an interesting mix of presentations on technology. Presenters are usually from the same industry, and are timed to keep presentations at 5 -10 minute lengths.
I attended the September 3rd, 2014 gathering at TechNexus, an incubator in Chicago which recently moved to the upper office floors of the Opera House. Four healthcare professionals spoke about technological trends and highlights from their industry, specifically about security (HIPAA), the Internet of Things, data security, and health service development from startups. This set of presentations included:
Security and Sanity in the HIPAA compliant workplace, Alex Connor, lead architect (@HiTizen)
We are doctors who take care of patience. What can technology do?, Dr Griffin Myers, Co-Founders and CMO, at Oak Street Health (@OakStreetHealth)
QS and BioHacking Movements, Mark Moschel (@markmoschel), Chief Technology Officer of Factor 75
Removing silos in Healthcare Data, Carol Zinder, Vice President, Client Experience at CareMerge
All had fascinating looks at their related issues.
Mark Moschel (@markmoschel), Chief Technology Officer of Factor 75 caught my attention the most with his presentation, QS and Biohacking Movements. His presentation focused on the behavior that has arisen from the budding internet of things era. He spoke about the self-care movement.
You may not have heard of it, but you've seen hits of it thanks to consumer-available tech devices that measure glucose levels, heart beats, and other personal metrics. There are two groups of tech enthusiasts that have risen from the self care movement.
One is the Quantified Self Movement. QSM is a belief system of "self knowledge through self tracking", that users manage aspects of their health through the data they collect.  According to Mike, Users:
collect data
visualize
learn about themselves
Users also talk about what they discovered with others, usually in small groups. Mike showed an image in which several execs and well-known technologists, including Wired magazine editorial founder Kevin Kelly, talking to each other about their own experiences with data collection.
The second group are called the Biohackers. The description sound similar to the first, but in the QSM example, practitioners are seeking ways to manage their health. Biohackers seek to improve themselves. Mark calls this system thinking to control and upgrade their own body. Most of the biohacking occurring centers on novel aspects of health, but the outcome is being better able to track posture, heart, mood, blood  glucose.  The tech that allows for these metrics are include implantable glucose monitors and digestible pills.
The slides for this presentation and all the others are available on the Cloudcamp Slideshare  page  – shown below is an embed of the presentation.