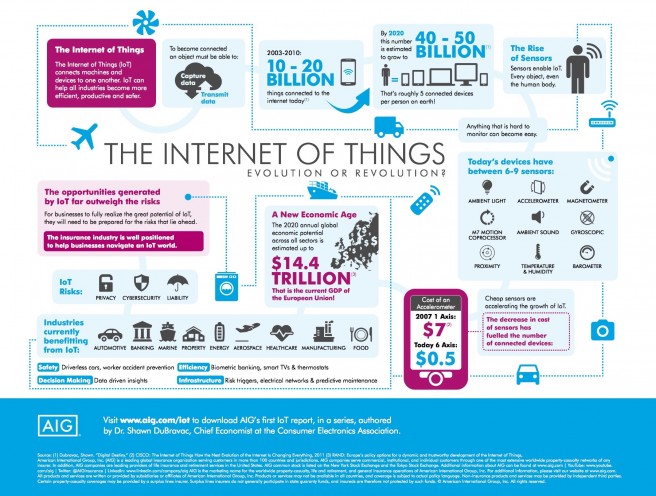 This infographic covers some of the basic benefits that are expected from the Internet of Things era.   Dr Shawn DuBravac created the infographic for AIG.
One interesting note is the cost reduction on devices – the infographic notes how accelerometer devices have dropped in average cost from $7 to just 50 cents.
This expected trend of lowered costs was also mentioned in during Joichi Ito's presentation at the O'Reilly Solid conference, a media event that covers the latest Internet of Things innovations. Ito is the director of MIT Media Labs, a facility which specializes in technology research.  He is a leading thinker and writer on innovation, global technology policy, and the role of the internet in transforming society.
You can read about the Solid conference in these posts for CMSWire (see Finding Solid Ground in the IoT Era) and for Small Business Trends ( Ways Your Small Business Can Capitalize on the Internet of Things).  You can also check out the video of Its's Solid Conference presentation How Bio Is The  New Digital .