Analytics Tip: Using Visitor Flow Reports to Increase Blog Readership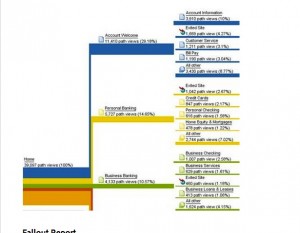 Many businesses are catching onto the value of content marketing through using their blog.  However, one challenge that enviably appears is how to manage the posts once a schedule is established.
One analytics report that can be useful is visitor flow. This report is usually seen in Google Analytics, but all analytic solutions have this kind of report with some variation on the reporting capability. For example, Adobe Analytics has similar reports such as next page flow which notes which next pages visitors navigate from a selected page. This is part of a patching analysis reporting within the Adobe suite, which is essentially similar to visitor flow within Google.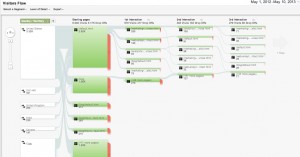 Use visitor flow reporting as a starting point for understanding where visitors are navigating on your blog.  This report can highlight blog traffic sources as well as how well visitors are reaching other content.  Use this to get a sense of the site audience.
First, highlight each of the top 10 referral sources by number of visits.  You can extend the list to 20 if you need to view other sources that did not make the top 10 listing.  Review the sites associated with the referral.   This overview can give a sense of traffic quality coming to the site.
Next consider the time being spent from the referral traffic.  Are there any referring sources on which people are spending above the average time on site? This implies that people are reading and that the referral source is sending engaged visitors.
Reviewing the site against the pages on which visitors land may spark ideas for what other content to provide.
This kind of analysis covers only one way to increase blog readership.  Check out a few tips here to build your readership – combining these tips can enhance the analysis and build a meaningful way to connect to your audience.
Here are some other tips for increasing readership on a blog:
Include a link to your RSS feed in your email signature – have a link that lets readers know to connect to your blog.
Ask for retweet of a blog post – sometimes asking Twitter followers to retweet can actually lead to a meaningful retweet. I also personally thank people for their contributions.
When providing guest post, write more supporting points in the draft than you intend in the final copy – prepare for a complimentary post to the main post based on the leftover points. Doing this saves time in creating material.
Pin an image in Pinterest which reflects your blog topic.  The image, which leads to your article, will take advantage of the search behavior within Pinterest, which is a different behaviors than that within a standard search engine.
Plan article topic in which customers can share on their feed. The ideas can help frame an initial ideas for attracting visitors.
Review geolocation report for content ideas – can you write a post for local concerns related to where your visitors are arriving from?
Revise call to action on promoted material – instead of the words "follow us", give readers a short sentence on what kind of content is on your site. Noting its usefulness is one enticement for drawing visitors. Take time to offer different introductions on different social media platforms.
Refresh material that is a year old – update material with references to the original (Do not delete posts outright unless the content is obvious seasonal – keep the original in place, to give credit to older material and impact page rank)
Syndicate blog posts. Several platforms can automatically update Twitter and Facebook, Google Plus, depending on the platform.  These save time by sending each time a blogpost is published.  Networked Blog, Buffer, Tweet Old Post, Dlvr.it, Zapier and IFTT are available options.  Most of these tools work with WordPress.org blogs, but some like IFTT can work with other blog platforms such as Tumblr.  Use analytics referral reports to see if visitors arrive via these platforms.