A Comparison List of Website Hosting for Small Businesses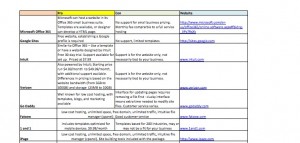 With so many small businesses still struggling to establish a website, the choice of hosting has been numerous – and complicated.  To make the choices a bit simplier and to help small businesses evaluate hosting option, take a look at this excel list of hosting options (with a few other packages thrown in).  The comparison runs the gamut from Intuit (which also offers its web building services to Verizon) to dedicated hosting for Fatcow and, of course, Godaddy.  Click here for a downloadable pdf of hosting solutions.
Keep a few aspects in mind:
Some options can limit operational capability.  I have seen one business rely on the now-defunct Microsoft Officelive but because there was no MySQL, PHP, or other backend applications required at the site, the business was limited in creating features for visitors, some of which were revenue generating.
For frequent updates, Use a FTP Client to upload large number of files quickly into your website – Fetch Softworks offers an excellent client, as is Filezilla. Filezilla is free; Fetch is an Mac-only client but inexpensive $49.
For those using WordPress, include the Add from Server plug in (author Dion Hulse) with your file server. The plugin is especially useful for large image files – once uploaded media files need to be placed in the correct directory to be accessible for post, so essentially the plugin is an additional required tool if confronted with a large number of media files with some larger than the wordpress filesize limit.
Consider customer service and support as a factor – many hosting services are similar technological features and benefits across the board.  Good customer service is essential for the hang ups that can occur with a website or blog.