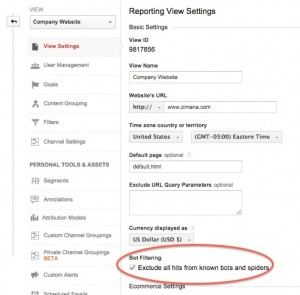 I wrote about filters just as this feature, a bot filter, was being introduced to Google Analytics. The bot filter is a toggle switch in the admin. It is meant to eliminate spider and bot crawls which can skew visitor metrics. Activating the filter is one step in having cleaner data and a clean look at trends and segments.
Using the bot filter is simple. To toggle the bot filter within Google Analytics, go to the admin page, then select the profile and view to which the bot filter will be applied. The toggle switch is shown in the View Settings selection, as seen in the image.
Use this feature to help cleanse the data that is collected in Google Analytics. The activation of the bot filter will not interfere with any other filters selected.
For more on filters, check out these Zimana posts on filter 101 basics and using filters in analytic reports.

Working remote can be a challenge, but more and more companies are finding success with it. 37 Signals, the firm that created Basecamp, has its workers mostly remote, with a central core workforce in its Chicago headquarters.
Marissa Meyer, Yahoo's CEO, chose a different route.  She mandated more employees to work at its main headquarters.  Since that time Yahoo! has acquired a number of companies, including Tumblr.  But its overall financial performance still has been questioned by Wall Street Analysts, according to Forbes.  So time may tell if Meyer's famed mandate inspired a significant change for Yahoo!
But consider this instance as a business intelligence lesson – analytics played into her decision.   There are also lesson of treating clients who are remote.  Meyer made her decision because log ins were reported low – so being remote implied a sense of inconsistent results, an unwanted characteristic for any business that seeks to improve itself.
Listen to the video and provide your comments here or at the All Analytics site.