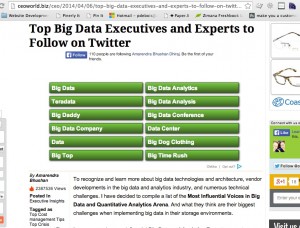 Earlier in 2014, CEOWorld Magazine named @ZimanaAnalytics among the top Twitter accounts to follow for Big Data. Managed by Zimana founder Pierre DeBois, the Twitter account curates a number of topics on small business, big data, and analytics, as well as regular posts from Zimana Blog, an AllTop web analytics blog.  The @ZimanaAnalytics Twitter account was ranked Number 36.
CEOWorld Magazine is a global business and technology information media site. Created by Amarendra Bhushan in 2008, CEOWorld Magazine offers business news features for chief executive officers and senior executives.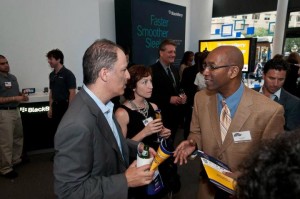 "I am extremely pleased and thankful for CEOWorld to consider @ZimanaAnalytics among the top Twitter profiles that feature big data topics, " said Pierre DeBois.  "By focusing on curating on analytics-related topics, the Zimana Twitter account has become a key resource for small and medium sized businesses that are working to increase their business intelligence knowledge and analytic capability. This acknowledgment from CEOWorld, along with a nod to the Zimana Facebook page being named one of the top Facebook pages to follow by Small Business Trends, encourages me to ensure that the Zimana social media platforms are of great value to clients, customers, and partners."
Read more about the top Twitter list at the CEOWorld Magazine site .