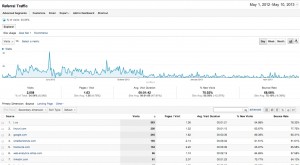 Although apps and mobile sites are all the rage these days, it is most likely that the top priority for a business, be it small and large, is to launch a new website.  But that launch process sometimes includes now-outdated approaches. Apps, social media, and new blog content that generate customer interest truly dictate the functionality a business must display on its site.
A generic approach I have seen is to release a new website, then create profiles at every site directory possible, as if the website is a flier.  This particularly occurs among small businesses.  The choice is a legacy from the early days when sites were submitted into directories as part of search engine optimization strategy.  The act is somewhat understandable, as a major tenet of marketing is exposure. No exposure is considered more democratic and widespread as the Internet.
The problem, though, is that this approach is outdated, especially over the last few years.  Social media has altered web site development by raising a visitor's expectation from a website.  As internet users have adopted websites as a primary source of information, they have increased their expectation to take action – a download, watch a video (albeit not at the start of a page load), and make a decision about the information being given, all within a short period of time.
Moreover, search engines have modified their algorithms to focus on up-to-date content, lowering emphasis on links as an indicator of a quality query result.  Google, which its search engine algorithm changes are constantly reported, has increasing weight on page load speed and social media cues. Bing has incorporated several social media cues in its results (see this Mashable post for more on Microsoft's change).
These significant search engine changes means businesses must monitor and optimize the websites they operate, instead of permitting a site to be treated as a static item.
But many businesses are unaware of these technological shifts, particularly as mobile links offline behavior to online.  The result is treating outdated ideas as if they are state of the art.
So what is a business owner todo?  A business should consider submitting its presence on sites that maintain active communities.  Many directories have realized the aforementioned internet developments and have accordingly enhanced their presence.
Biznik, YP.com, and Manta are examples of question and answer forums meant to encourage networking among forum members and meant to augment the biggest sources of social media profile and engagement – Facebook, PlusPinterest, and Linked In.  Many of these directories provide features that are meant to drive traffic to a website – where Facebook, Pinterest, and Google Plus are meant for participation within a community.  Others provide some synchronization to your site material. Biznik, for a fee, syndicates your blog posts, giving your site another source of exposure.
Once submitted to these sites, businesses can verify the volume of referral traffic in the analytics report.  Examining time on site, pageviews, and recency metrics can indicate the value of participation. These metrics compared for each site shows how much relevant traffic arrives, if that traffic remains onsite, and if that traffic should be nurtured because of its contribution to goal conversion rates.  You can compare one site against another, as well as against your other marketing campaigns.  This approach is a play on the Pareto theory; Your determination of the site traffic contributors is revealing the 20 percent of traffic that creates 80 percent of the result.  (Sidenote: If you have never heard of Pareto theory, read John Barnes' explanation of its significance in this All Analytic post.)
So to make a significant difference in online traffic strategy, reduce the dependency on static directory submissions.  I once stated about small businesses avoiding mimicry of large business strategy in a post for All Analytics  (see SMBs Need to Study, Not Mimic, Successful Digital Strategies). Optimizing referral traffic is how small businesses can develop their own ways to make a visitor website experience more memorable.