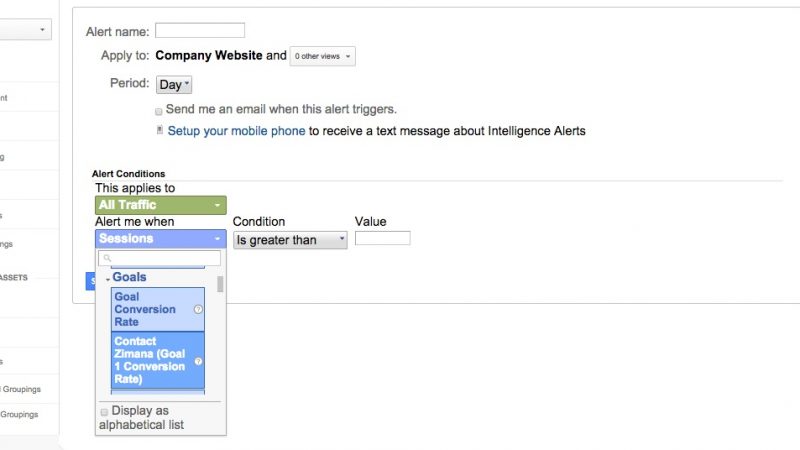 How To Plan Google Analytics Alerts To Improve Your Site or App Traffic
Analysis can be fun, discovering new marketing ideas from the data collected, but in many instances it is counterproductive to check metric changes daily. While advertising campaigns need it to make sure budgets are not exceeded, daily checks can lead to overlooking trends that develop over a long arch. Trends are the main indicators of behavior behind the data, and they can be best viewed through periodic checks and smart comparisons.
The key to making smart comparisons and avoid wasting time on analytics is to examine when certain trend changes occur. Measuring metric lifts or declines is the best way to decide when analytic reports need reviews. With so much data entering a site or app today, it's better to let analytic alert you when something unusual happens rather than spend time trying to find potential differences.
Alerts are sent as email notifications. Google Analytics calls these alerts intelligence events. In Google Analytics you can set alerts via the admin panel, click on the custom alerts, and then set the dimensions, metric, and segment categories that will trigger the alert.
Three choices for metrics can be used for an alert:
changes in volume (increase by 10, decrease by 15 visits)
a threshold percentage (%)
a threshold amount (less than or more than).
So, once at the alert panel, what settings are worth your attention? Well, here are a few basic settings ideas that you can plan from the start.
Traffic spikes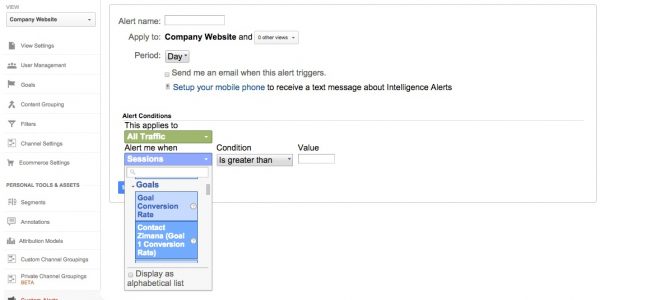 This falls under the "duh" category, but basic traffic spikes are what we want to see. The issue is how much of a lift should be monitored. The best starting point is to set a 10% increase as an arbitrary starting point.
Now, low volume (about 600 sessions or below) will probably trigger notices every other day for small spikes. That has happened for Zimana at the beginning. But using a 10% setting will trigger less often as for a site that is developing traffic over time. Consider revising as the overall volume grows to a steady amount per month.
Let your knowledge of the X visitors per day decide if a larger percentage is more reasonable. But before you set a number, just ask about the value expected when a number doubles or even triple.
Traffic drop
When something goes up, something can come down. Every decline may not be worthwhile, but consider a percentage decline the same way you would for the traffic spikes. Again adjust as volume increases. A significant drop will reflect a coding issue with the analytics, site, or app.
Changes within known traffic segments

Alerts can also work for specific traffic segments. Examples include traffic associated with an AdWords campaign or a custom segment set in Google Analytics. Segmentation by traffic source, media, and referral path are other ways to highlight a given set of traffic.
Spike in goal completions
The idea behind this is similar to the traffic spike, replaced with a focus on goals completed by site visitors or app users during a session. Create an alert for raw number of completions, but also set alerts for intended demographics, such as users that arrive from a specific city, region, or with language. Goals should be triggered but mainly for granularity that would be of interest in a business operation, like the percentage that resulted in a conversions or the number of people who started conversion activity but didn't complete it.
Drop in goal completions
Just as a goal spike is analogous to a traffic spike, a traffic drop is analogous to goal drops.
But goal alerts do not just have to be for web site or app metrics. There are other metrics available in an analytic solutions that can be monitored. E-commerce is exactly that "other" that typically comes to mind to most analysts.
Ecommerce Trends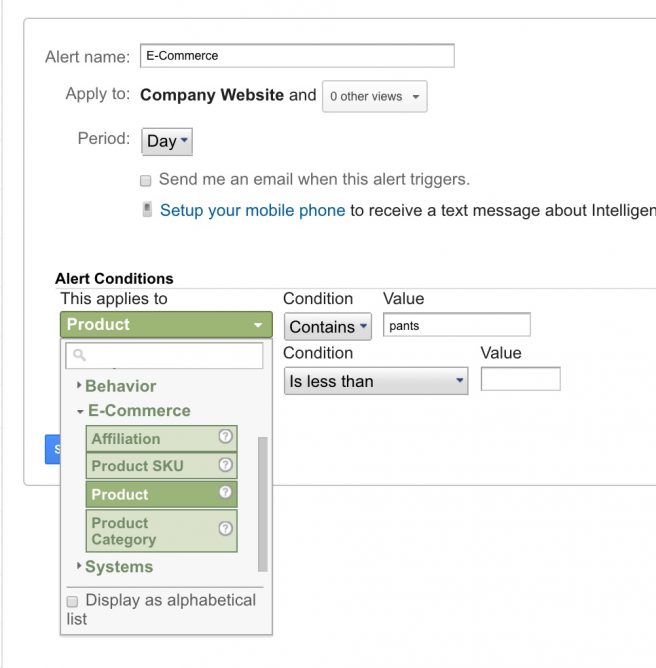 For an e-commerce site you can set alerts for a number of financial metrics related to a purchase – unique purchases, product, revenue, shipping charges, and tax charges. Monitoring these can help understand how a site or app contribute to cost. These can also lead to understanding how frequently these costs are occurring.
Alerts in AdWords and Bing Ad campaigns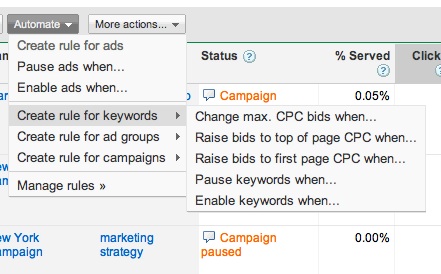 Alerts can be helpful in deterring upswings in digital ad performance, from increase clicks to increase conversion. Campaign managers such as those for Bing and Adwords do have stop campaign alerts, to let users know when a campaign has been suspended because a preset limit has occurred.
Using alerts can make monitoring your data less time consuming and allows you to focus on other aspects of your marketing or within your business.