Category Archives:
Social Media
"To make great content, make it for your customer or your audience, not for yourself." -Gary Vaynerchuk
That Gary Vaynerchuk quote can easily capture the essence of a "Positive TwitterDrop" – when an Twitter follower inserts a comment that ties into an event stream or ongoing related conversation. Admittedly the phrase Twitterdrop has a negative connotation – it is used for poor-behaving Twitter users who pretend to be in conversation with someone when they are not.
But to be positive in most people's eyes, apply a festive, playful mood to events in which the conversation is taking place.  The images in this post contain positive examples to join a conversation. The key to success is selecting events based on the persona of your desired customers.
Does your customer enjoy American Football? The Super Bowl is fast becoming the event of choice.  or does your customer enjoy "Football" – aka soccer?  The World Cup fits the bill.
But if your events are on a smaller local scale, the same technique applies. Consider joining the conversation about that event.  To get inspired take a look at the examples provided below.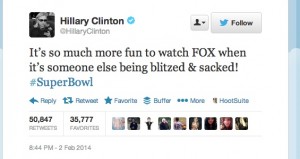 Hillary Clinton made a splash with her mention of Fox news' coverage of her and Fox Network's Super Bowl coverage.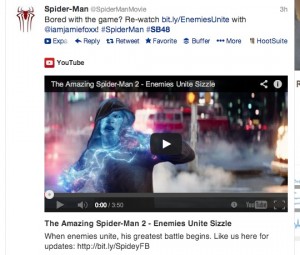 The trailer for the Amazing SpiderMan 2 notes the Super Bowl in its tweet. The tweet has a simple intro – "Bored with the game?" with a call to action "Re-watch" the trailer.
This Digiorno Pizza tweet noted the commanding lead of the Seattle Seahawks and noted a benefit from choosing a Digiorno Pizza. To embed well means having a team with a sensibility of what is happening in an event.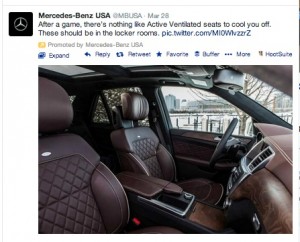 This Mercedes Benz Twitterdrop was connected with the 2014 NCAA Basketball championships. Mercedes Benz relied on its image as a comfortable place to be after being in a difficult environment. Embeds can be creative with its imagery.
There are other examples of embeds, not necessary tied to the world of sports…
With the Muppet movie "Muppets Most Wanted" Disney embarked on a campaign that "embedded" Muppet characters everywhere. In this example, the Muppets join Jimmy Fallon for his transition to the Tonight Show – it was a fit since both Fallon and the Muppets sing in their respective programs. Embedding is about a proper fit of character behavior to make the experience natural.  Note that this example was on Facebook – an embed can be anywhere on social media.

This University of Maryland Tweet shows how even a university can embed on an embed campaign, using factoids. In this case, the university reference Muppet creator Jim Hanson alongside a mention of a Muppet appearance in a Toyota commercial.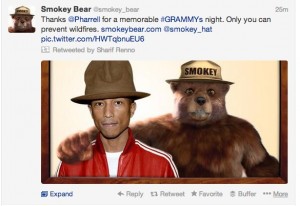 Finally even a hat can be an embed moment. Pharrell's hat, which garnered attention at the Grammy Awards, earned the rightful attention of Smokey The Bear, reintroducing a character into the media spotlight and highlight attention to a public safety message.
Know some great examples?  Share your ideas for a great Twitterdrop on this post.